More Than Just Accounting – The Juggling Acts of an Office Manager
One of the main goals of the Accounting Specialist program at Community Care College is to prepare graduates for the variety of tasks they could one day be responsible for, and for a variety of jobs that have overlapping skill sets. In many companies and for many small-business owners, this means hiring someone who can wear many different hats…at the same time! The job title for this gifted juggler is often "Office Manager"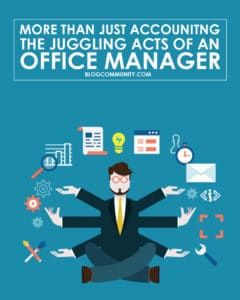 Very often, the office manager of a small company wears the "Bookkeeper" hat, the "Administrator" hat, "Sales" hat, "Customer Service" hat and "Human Resources" hat all in the same day. Talk about multi-tasking on steroids!
While it may seem daunting to many, to the super-organized, motivated, and ambitious individual, this sounds like an ideal job. It has variety, challenge, and keeps the office manager on their toes.
An important responsibility the office manager has (wearing the "manager" hat) is hosting and running efficient and morale-boosting meetings. Meetings could be with employees, vendors, customers, partners, or anyone else, but the one thing they have in common is that a good meeting incorporates good planning, smooth execution, and keeps all parties engaged.
According to a blog post by SuccessfulMeetings.com, there are a few trends for these meetings, large or small, that will dictate how successful meetings are organized in 2015:
"Expectations are High—Budgets are not." – How can the office manager do more with less? One word: Creativity.
"Goodbye Attendees—Hello Participants." – It's no longer supposed to be a one (wo)man show. People are busy, stressed, and generally in a hurry unless they're engaged and genuinely interested in what's going on.
"Big Data's Role Gets Bigger" – Getting more information on the participants before they arrive to the meeting is more important than ever. Researching this ahead of time prepares the office manager to engage them better.
"Training Meetings Gain Traction" – Nothing like building morale and a sense of community like fun and engaging training meetings that pour back into team members. Investing in the professional development of the team is investing in the business. More businesses are likely to conduct formal training meetings with their teams in 2015.
"Talkin' Bout My Generation" – With more Millennials entering the workforce every day, the variety in age and background of meeting participants keeps increasing in diversity. Planning a meeting to keep all generations engaged and contributive is a new but important miracle all office managers need to perform on a continuous basis.
Does this sound like something you'd love to do? Are you equipped with the balance act skills needed to thrive in this position? If you answered "yes" to the first and "no" or "maybe" to the second, check out the Accounting Specialist Program we have here at Community Care College. We'd love to answer any questions you might have.
More on accounting: