What Does An Accounting Specialist Do?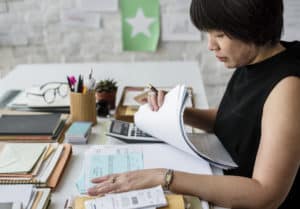 Accounting specialists handle numerous aspects of a company's financial records, from making entries and generating reports, to communicating with clients and vendors and making sure every transaction is completed successfully. Accounting specialists will find many career paths open to them as they produce and maintain financial records for a company. They can and will do a variety of things, like:
Record Financial Transactions
Update Statements
Bookkeeping
Check Financial Records
Administrative Work
Office Management
Accounting specialists are often asked to take on additional roles in an office environment, so it's important to have a versatile skill set and be equipped to fill numerous roles in an organization.
The Bureau of Labor Statistics projects an eleven percent growth in positions as bookkeeping, accounting, auditing, and financial clerks from 2012-2022.
College credits in accounting or an accounting specialist degree will ensure that you're well rounded, well educated, and well prepared for entering the business world. College programs combine traditional accounting concepts with accounting software programs that are used by millions of businesses around the country. If accounting sounds like your thing, check it out here.