DARW
Dental Assistant Recognition Week (also known as DARW) is held the first full week in March every year. Dental assistants are a key part of the dental practice year-round. But they get a special week dedicated to them each year for all the great work they do! Today's dental assistants strengthen the entire practice and enhance patient satisfaction around the world. Dental assistants are committed to professional development and quality dental care.
March 3-9, 2019, has been designated by the American Dental Assistants Association as DARW. Moreover, this is the perfect time to acknowledge and recognize the versatile members of your dental team. Similarly, dentists in the United States and Canada will celebrate by honoring their dental assistants this week.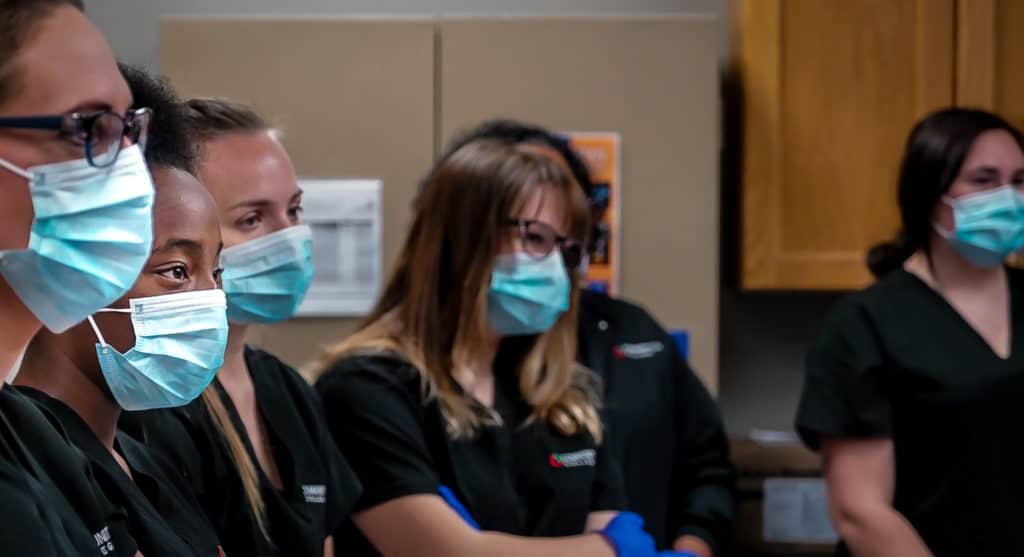 DARW 2019
"Today's Dental Assistants – Polished, Poised & Professional" is the theme for 2019. This theme acknowledges the growing importance of dentistry's role in health care and the responsibilities of dental assistants. Most importantly it embraces the three most important attributes for any dental office assistant.
"This week was Dental Assistant Recognition Week. Many Community Care College employees took the time to come by and recognize the dental team. This is always a fun and humbling week for us and our students. Dental assistants are truly the backbone of all dental practices. However, they are the least recognized for their work. Dental assistants can perform many duties including front desk administration as well as hands-on work with patients. As a result, they are the high-functioning employees that keep both the patients and the dentists content. We were happy to celebrate not only our students but future and current dental assistants everywhere." said Janet Coon, Community Care College Dental Assistant Department Head.
Coon surprised her students with tooth-shaped donuts on the first day. The rest of the week, students received CCC Dental Assistant tumblers, candy and fun activities. On Thursday, March 7th, students were given large name tags to wear. After that, other students and employees wrote encouraging notes and compliments on the name tags. The students were excited about both giving and receiving encouragement from each other and CCC employees.
Monday "Dental Donut" Day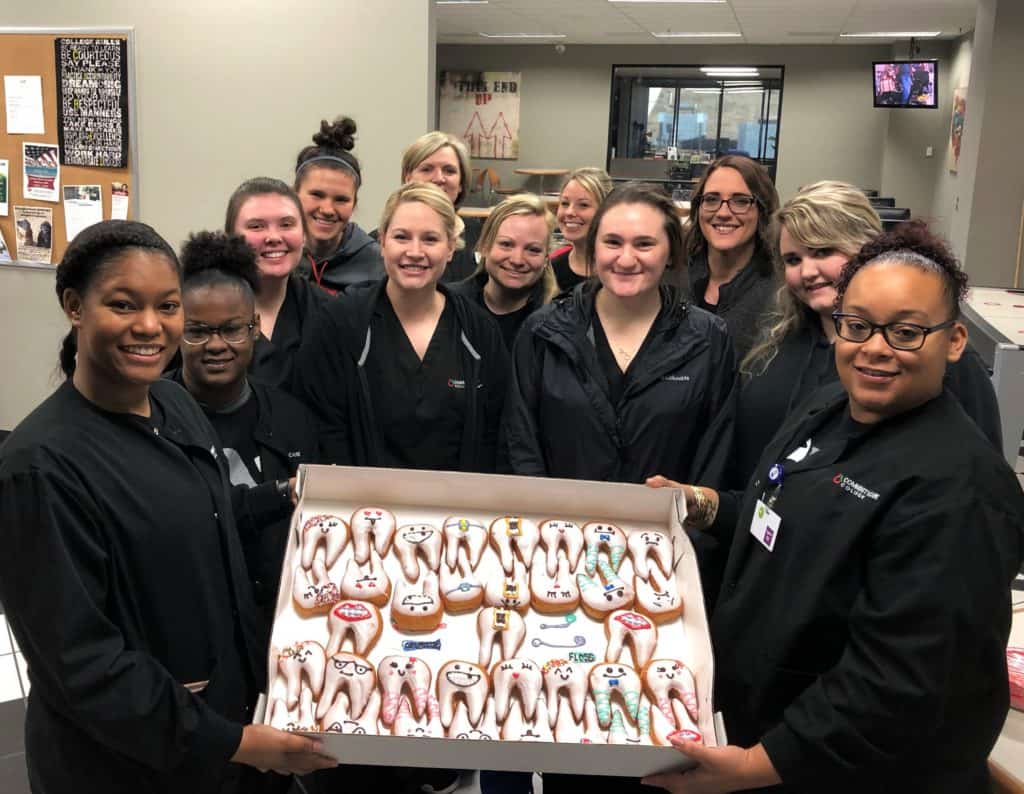 Students enjoyed tasty donuts in the shape of teeth. Talk about a "Sweet Tooth"!
Wednesday "Tumbler" Day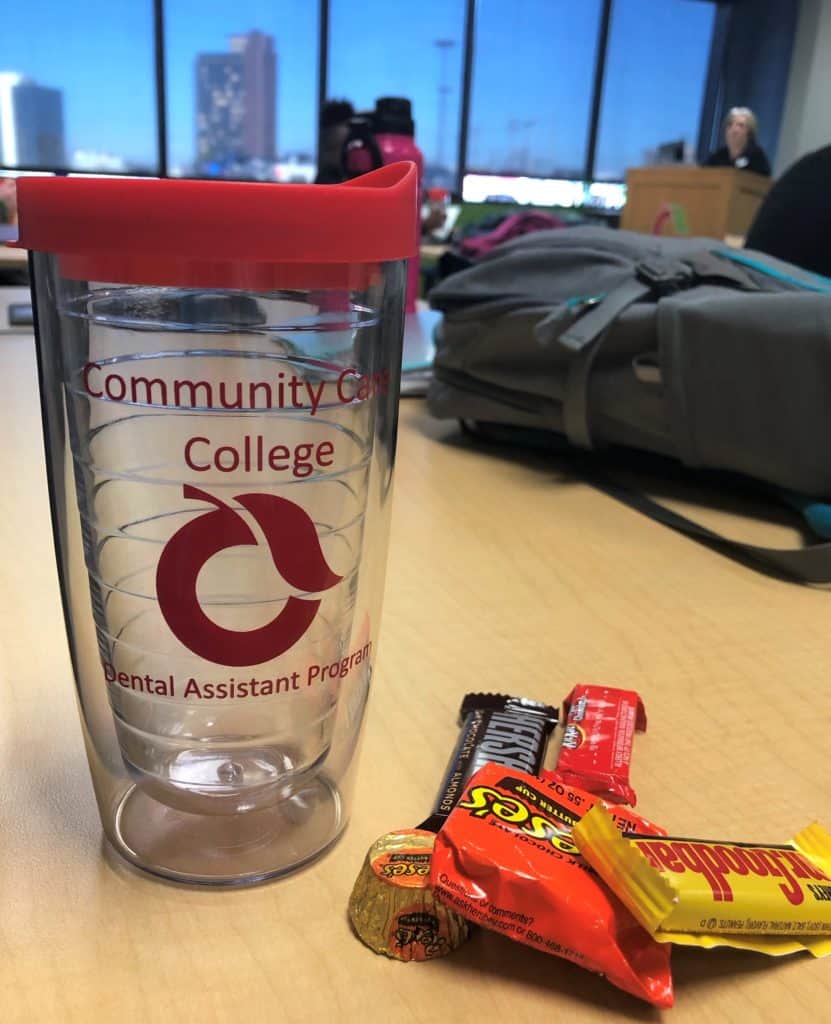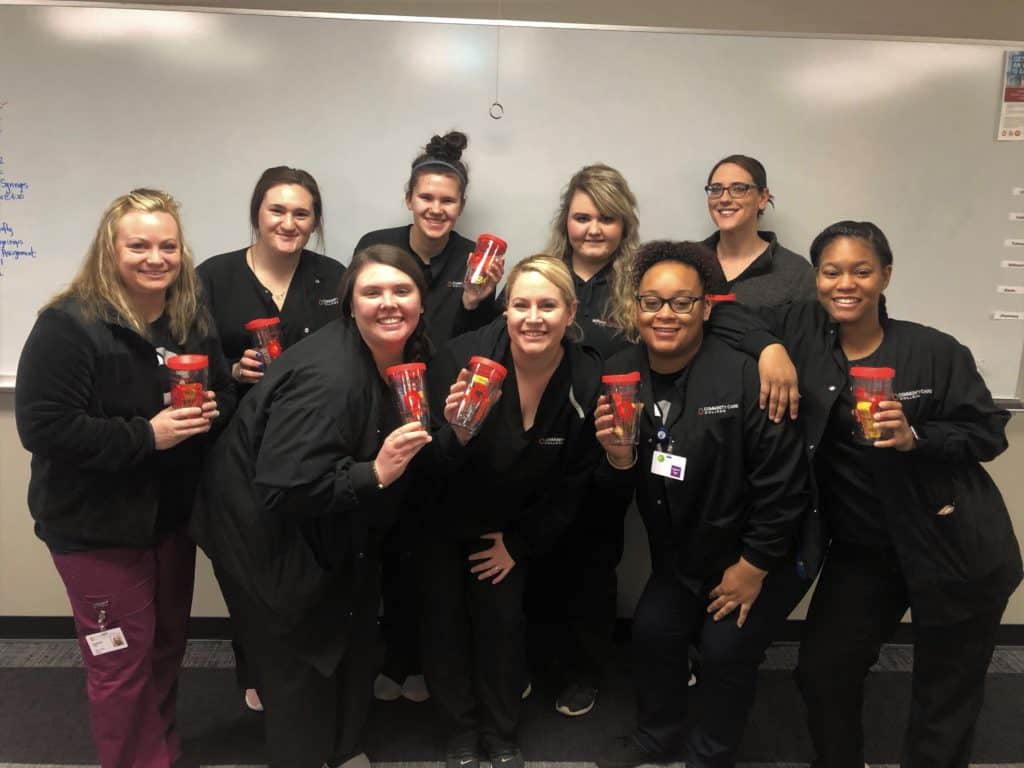 Students received a give of a program tumbler filled with goodies.
Thursday "Wear Your Button" Day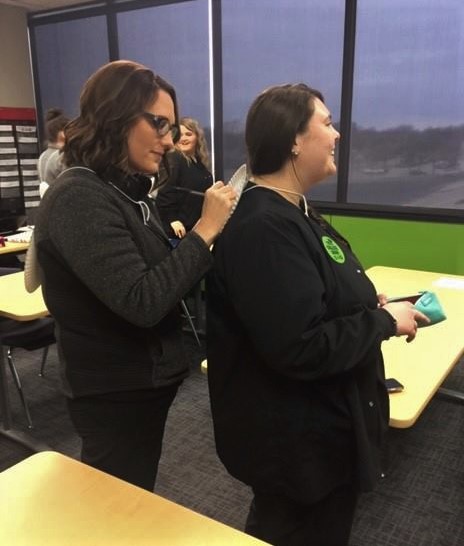 Students wore "buttons" for everyone to write anonymous words of encouragement on.
The Community Care College Dental Assistant program combines hands-on work with mentally engaging tasks. In addition, students receive exposure to various career paths as a dental assistant. This includes careers from orthodontics and periodontics to general dentistry and more. Firstly, CCC students receive their Dental Assistant Permit from the Oklahoma Board of Dentistry. Secondly, students also receive their first expanded function duty of Radiation Safety and Protection. Thirdly, students are certified in Healthcare Provider CPR.
Make sure to thank your dental assistant the next time you have an appointment with your dentist. Above all, becoming a dental assistant is a noble choice. You are actively choosing to help others.  Interested in becoming a dental assistant? We would love to get you connected.
Call 918.610.0027 to learn more!