A Life Sentence: The Sad and Dangerous Realities of Exotic Animals in Private Hands
Across the United States, millions of exotic animals are kept captive in private homes and in roadside zoos and menageries. The trade in exotic animals is a multi-billion dollar industry, and exotic animals are bred, sold, and traded in large numbers.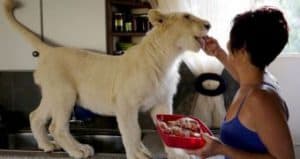 But these animals — including, among other species, lions, tigers, cougars, wolves, bears, monkeys, alligators, and venomous snakes and other reptiles — pose grave dangers to human health and safety. By their very nature, exotic animals are unpredictable and are incapable of being domesticated or tamed.
In many states, people are allowed to keep exotic animals in their homes and backyards without restrictions or with only minimal oversight. Every year, people are attacked and injured by exotic "pets" or exotic animals in roadside zoos; some of the attacks are fatal, and children have too often been the victims. In recent years, people have been mauled by tigers, attacked by monkeys, and bitten by snakes, just to name a few of the tragic incidents involving exotic "pets" and incidents involving exhibited animals. View a comprehensive list of all Exotic Animal Incidents that Born Free USA tracks.
Compounding the risk to the public, many exotic animals are carriers of diseases, such as herpes B, salmonellosis, monkeypox, and rabies, which are communicable — and can be fatal — to humans.
Further, the conditions in which privately-owned exotic animals are kept also raise serious animal welfare concerns. Most people cannot provide the special care, housing, diet, and maintenance that exotic animals require. Many animals who have become too difficult for their owners to care for, or who have outgrown their usefulness as "pets" or profit-makers, end up languishing in small pens in backyards, doomed to live in deplorable conditions, or are abandoned or killed. A very few lucky ones are placed in genuine sanctuaries to live out the rest of their lives.
The serious problems associated with the private exotic animal ownership have led groups as diverse as the American Veterinary Medical Association, the United States Department of Agriculture, the Centers for Disease Control and Prevention, the National Animal Control Association, and the American Zoo and Aquarium Association to oppose the private ownership of certain exotic animals.
Article Courtesy of bornfreeusa.org
 WATCH THIS VIDEO
Safari's Sanctuary in Broken Arrow, Oklahoma
ANOTHER QUESTION -WELL STATEMENT…
"I would love to open a sanctuary one day. Just one of my dreams."
EVERYONE TELLS ME THAT! I HAVE TRIED TO GIVE MY PARK TO SOMEONE WORTHY AND WHO HAS THE MEANS TO KEEP IT UP AND GOING — I HAVE DONE THE FIRST 18 YEARS AND MY BODY IS GIVING OUT! BUT EVERYONE HAS QUIT SO FAR. NOT BECAUSE THEY DONT LOVE THE ANIMALS, BUT THERE IS SOOOOOOOOOOOOOO MUCH MORE TO IT. 1) THE RICHES ARE ONLY IN LOVE —NO MONEY, UNLESS YOU BREED, AND SELL TO ANYONE. OF WHICH IF YOU LOVE ANIMALS, YOU ARE WAY TOO PICKY AND END UP KEEPING THEM. THEN JUST DONT BREED AT ALL, UNLESS YOU KEEP THEM ALL. 2) THE WORK IS 24/7/365, NO WEEKENDS OFF, NO CHRISTMAS DAY OFF, NO NEW YEARS DAY OFF, IF EMERGENCY, SICK, ITS 24 HOURS.. YOU DONT JUST WORK 9-5. IT IS A LIFE COMMITMENT —- THEIR LIFE, NOT YOURS. AND YOU CANT SEND THEM TO COLLEGE AT 18. 3) YOU HAVE TO BE NOT ONLY AN ANIMAL LOVER, BUT THE ACCOUNTANT, MARKETING MANAGER, CLEAN UP CREW — THE "TOP DOG", OWNER, MANAGER – HAS TO DO EVERYTHING THE VOLUNTEERS DONT WANT TO DO – OR THAT THE VOLUNTEERS DONT DO RIGHT. YOU ARE NON PROFIT (NEGATIVE PROFIT) – YOU CANT AFFORD A PAID STAFF, YOU RELY ON FREE HELP. MANY TIMES, FREE HELP DONT LIKE WAKING UP AT DAWN WHEN ITS 20 DEGREES OUTSIDE AND ICY. BUT THE ANIMALS STILL NEED YOU – MAYBE EVEN MORE. 4) YOU ALSO HAVE TO BE AN ENGINEER, CAGE BUILDER, REPAIR AND MAINTENANCE, LAWN MOWER, ERRAND RUNNER, FEED AND SUPPLY BUYER. 5) YOUR FAMILY IS YOUR ANIMALS. YOUR FRIENDS ARE YOUR ANIMALS. FAMILY AND FRIENDS SUFFER FROM YOUR NEVER ENDING SCHEDULE -THEREFORE ITS HARD TO KEEP THEM. MY HUSBAND IS A SAINT FOR THE LIFESTYLE HE HAS COME TO KNOW…
THATS JUST FOR STARTERS – YOU GET THE JIST?  ~ Lori Ensign-Scroggins
Post Courtesy of facebook.com/safaris.sanctuary
About Safari's
SAFARI'S IS NOT OPEN TO THE PUBLIC.
The animals are fed and cared for by VOLUNTEERS and DONATIONS!
Can you HELP??
We DO accept volunteers (new volunteer orientation every Sunday at 11 am)
Contact Information
918-357-5683
26881 E 58th Street
Broken Arrow, Oklahoma 74014
Website www.safariszoo.com