10 Study Tips for The CST Exam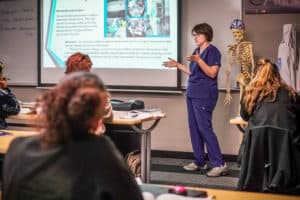 Studying is hard — there's no doubt about that — and studying for a major test like the Certified Surgical Technologist (CST) Exam can be a little daunting. Here are ten study tips to make your life a little easier.
1. Apps
Programs like the Official NBSTSA CST Exam Prep, AST, and Appleton and Lange all have apps that are available for download on Apple and Android products. These apps prepare the student by giving practice exams that are set up like the CST exam.
2. Books
I myself have the Appleton and Lange Review for the Surgical Technology Exam book. This book has multiple choice questions in different categories as well as a practice exam in the back.
3. Flashcards
Flashcards have always helped me study and actually retain knowledge in my studies. By making flashcards, repetition and memorization will make the facts stick. Online resources such as Quizlet and ExamTime make it easier to study without carrying around a giant stack of notecards. I am making flashcards over my Appleton and Lange book and it is making it less stressful and easier to study.
4. Games!
The websites used to make flashcards often have games that make it easier (and more fun) to learn and retain information. Just looking through cards can sometimes become a drag, so making the study time enjoyable is beneficial of maintaining focus in your study time.
5. Study Every Day
As much information that is included in CST preparation, studying every day helps the student not feel as overwhelmed and more prepared for their test. Cramming as much information as you can last minute is stressful, and needed information is likely to be overlooked and missed. Take time every day to study. Make it part of your everyday routine.
6. Make A Group
Studying in a group can bring input and other ideas that you may not have thought of. A group can split tasks, bring in different perspectives, and fill in learning gaps. Group time also becomes a commitment, so you cannot procrastinate and put off studying.
7. Take Breaks
Trying to study so much information for hours and hours on end can be tedious and exhausting. Take breaks! Give yourself time to relax and reward yourself for your studies.
8. Get Organized
I am a person who benefits from organization and having my day planned out. If I put in study time, I'll study. If my study area is clean and organized, I will feel at ease and get more work done.
9. Review
Going through old homework, quizzes, and tests can sometimes refresh your memory of things you have previously learned. We didn't go to school for nothing! Reviewing these can be beneficial and keep your mind going.
10. Set Goals
If you want to do something, make a goal of it. Make a plan for your future so that you can visualize what it is you are working for. I want to pass the CST. I want to have a job in the field that I love. These things are what are making me motivated and making me put in the time to study.
By: Katie Day