New Paralegal School in Tulsa Not So New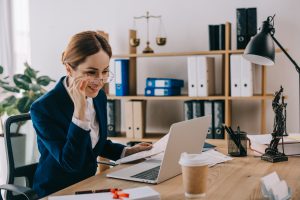 The Year 2010 was not that long ago.   That was when a new paralegal program originated in Tulsa, Oklahoma at Community Care College (CCC).  Before that, all of CCC's programs had some basis in healthcare.  And so, by now the program is established.  It has graduated 29 individuals since then, and between mid-2012 to 2013, 87.51% of those graduates were hired in the legal field or a related field. 
Yes, there are other paralegal programs in Tulsa, but this one is different.  For one thing, it's entirely online.  Students complete course work in a learning management system on the Internet and attend weekly live lectures in a virtual classroom.
The degree program takes 22 months.  Each course is four weeks long.  Deadlines are predictable and manageable for one with a full-time job.  Most students continue to work and many have growing families.  When they finish, they seem to have a new, professional identity.  Gone are the days of working for minimum wage.  They have begun a career in which they can grow and prosper throughout their working lifetimes.
More on Paralegal studies: