It's February and we're celebrating Black History Month by highlighting Black leaders throughout history!
Dr. George Franklin Grant was the first African American professor at Harvard. He was born in Oswego, New York to former slaves. When he was fifteen years old a local dentist, Dr. Albert Smith, hired him as an errand boy. He soon became a lab assistant, and Dr. Smith encouraged him to pursue a career in dentistry. After receiving his degree in 1870, he became the first African American faculty member at Harvard, in the School of Mechanical Dentistry, where he served for 19 years.
While there he specialized in treating patients with congenital cleft palates. His first patient was a 14 year-old girl, and by 1889 he had treated 115 cases. He patented the oblate palate, a prosthetic device that allowed patients to speak more normally. He was a founding member and president of the Harvard Odontological  Society, and, in 1881, he was elected President of the Harvard Dental Association.
Grant was an avid golfer. In 1899 he invented and patented a golf tee whittled from wood and capped with gutta-percha, a latex resin used in dentistry for root canals. George Franklin Grant died from liver disease in 1910.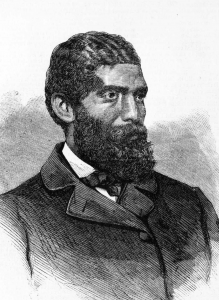 John S. Rock was an award-winning creator of artificial teeth and one of the first African Americans to graduate from medical school. Rock was born to free parents in Salem, New Jersey on October 13, 1825. Education was very important to the family, and though not wealthy, his parents were able to provide enough so he wouldn't have to start working at a young age. With his parents' support Rock was able to continue his education until he was nineteen.
In 1848 Rock tried to enroll in a nearby medical school. His application was rejected because of his race. Disappointed, he turned to the study of dentistry and in 1850 opened a dentistry office in Philadelphia, Pennsylvania. Rock was an innovative dentist and became known for his ability to make false teeth. In 1851 he actually won a medal for a set of silver false teeth that he made.
Rock seemingly enjoyed his dentistry work, but never gave up on his dream of becoming a doctor. He was eventually able to attend medical lectures at American Medical College and received his medical degree in 1852. Shortly thereafter he moved to Boston and opened a medical and dentistry practice in 1853. Most of his patients were runaway slaves passing through Boston on their way to Canada.
On April 9, 1866, the Civil Rights Act of 1866 was passed which enforced the 13th Amendment. Rock enjoyed this honor for less than a year. He became ill with the common cold that weakened his already failing health, and limited his ability to commute efficiently. On December 3, 1866, John S. Rock died in his mother's home in Boston of tuberculosis at the age of 41.