What Does A Medical Assistant Do?
So what is a Medical Assistant and what does one do?
Here's a formal explanation, according to the only national organization dedicated solely to the profession of medical assisting, the American Association of Medical Assistants (AAMA):
"Medical assistants perform routine administrative and clinical tasks to keep the offices and clinics of physicians, podiatrists, chiropractors, and optometrists running smoothly."                             (http://www.aama-ntl.org/resources/library/07MAcareer.pdf)
Yes, but what does a Med Assistant do?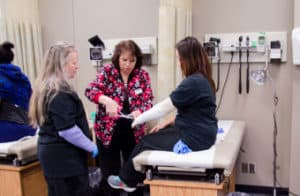 Let's be more specific.
Administrative Responsibilities:
The administrative tasks that medical assistants routinely perform include managing patient phone calls and correspondence, scheduling appointments, maintaining patient records, obtaining pre-authorization for tests and procedures, arranging for diagnostic testing and referrals, and calling in prescription refills.
Medical Assistants accurately complete insurance forms and perform billing and coding, accounting, and payroll tasks.
You prepare and maintain the clinic from the reception area to treatment rooms.  You inventory, purchase and maintain office and clinical supplies and instruments.
Clinical responsibilities:

Clinical duties vary in each state, but include taking patient histories & vital signs, preparing patients for exams and assisting both the physician and patient during the exams.
Medical Assistants collect specimens
perform basic laboratory tests,
wrap and sterilize instruments,
prepare and administer medications,
assist with x-rays and minor surgeries,
remove sutures,
change dressings,
remove casts,
perform EKGs,
and perform vision and hearing screening.
 If you work in a medical specialty, their responsibilities include more specialized tasks.
 Under the physician's guidance, medical assistants are crucial in patient education, teaching all aspects of health care from promotion and prevention to restoration and rehabilitation.  Therefore, medical assistants are educated in how the body works, fails and can be healed and strengthened.
 In a nutshell:  Medical Assistants help physicians and patients!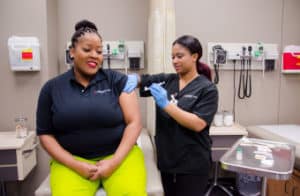 Where do Medicals Assistants work?
Medical assistants work mainly in medical offices and clinics, which means Mondays through Fridays, day-time hours, no weekends and no holidays!  You can have a regular, real life!  You can get to know your clients through long-term relationships.
If you need or like evening hours and weekends, medical assistants also work in urgent care centers.  There's lots of excitement, where patients come to you in need and you help them during stressful events right then and there.
Medical assistants can work in rural areas or big cities and the CMA (AAMA) credential is recognized in all U.S. states, so you can move and continue your career without disruption.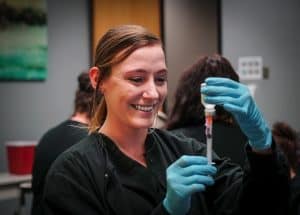 At one time, a person could be hired off the street and be called a "medical assistant".  No longer; clinicians need and desire educated, well-skilled assistants, those who are trained in critical thinking and appropriate responses.  Patients demand that their care-givers be knowledgeable and technically skilled.
At Community Care College, the Medical Assistant instructors prepare our students to be able to take care of our own families; that's the standard of safety and skill we set and strive to meet.  We are accredited by ABHES, have built our curriculum using the AAMA requirements and are all Certified Postsecondary Instructors with years of clinical experience in the field.
If you like helping people, want to learn about health care for yourself, family, friends and patients, if you like variety in your work, if you're good at multi-tasking and are looking for a meaningful career (not a just a job), consider Medical Assisting.  You can't be out-sourced, the field is growing as Baby Boomers age, and medical knowledge and treatment are always advancing, so you'll have a lifetime of learning and growing.  It will never be boring:  if you work with kids in pediatrics for a while and later decide you want to work with older folks in geriatrics, you don't have to return to school for a new training, you're already trained and can to switch!  If you decide you want to go on in your education as a nurse, lab technician or doctor, you have a solid foundation on which to build your further education.
BUT, medical assistants are professionals in their own right.  We have graduates that are clinic supervisors and they started just like you:  with a desire to change their own lives and the lives of those they care for; they started with a dream of a meaningful career, and attained that dream in less than a year.  You can too!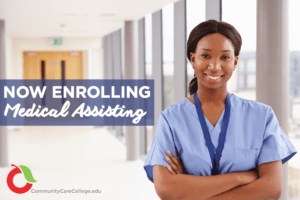 How do you know if you've chosen the right Medical Assisting program?   Hint:  are they accredited by ABHES &/or CAAHEP?  Only graduates from colleges accredited by one of these organizations can sit for the CMA (AAMA) exam.
About the author:
Toni Bethel
Has been a Medical Assisting Instructor at Community Care College since January, 2007.  She was chosen as the Elsevier/ABHES National Teacher of the Year in 2011 and received the Outstanding Teacher Award at Community Care College in both 2007 and 2010.  Graduated from Tulsa Community College in 1984 with an Associates Degree in Applied Science (Nursing) and became an RN that same year.  She is nationally certified as a CMA (AAMA), AHA BLS CPR Instructor and NCCT CPI.  Her professional experience includes adult mental health, eating disorders and post-op general surgery.  She is currently the Co-Department Head and Evening Instructor of the Medical Assisting Program.
____________________________________________________________________________________________
Want to learn more about maintaining or achieving health, teaching others about health and working in a career that uses this knowledge?  Contact Community Care College and ask about our Medical Assistant program.  We educate and prepare you to work in the fast growing professional field of Medical Assisting.  After completing our program you are also qualified to sit for the American Association of Medical Assistants' national certification exam to become a CMA (AAMA), which is recognized in all fifty states!
More on medical assisting: