Kids Book Fun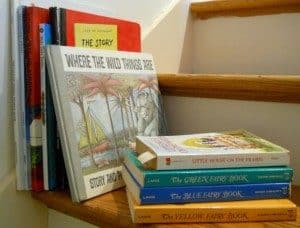 I love books. I love reading. I understand the value of reading and the importance of fostering a love of reading in a child. Currently, I am focusing on instilling this love of reading in my 2 year old son. He LOVES to read and hear oral stories, which I count as a win, for sure.
Recently, I took part in a book exchange. I got a letter in the mail that explained how the book exchange would work, and that my child would eventually receive 36 books, if all was followed correctly. To briefly explain, I was given the name of a child and their address was listed. I was to send a book that that child, move up the name underneath, add my son's name on the bottom of the list, and copy and send the letter to 6 of my friends. The purpose of this was to of course get an influx of books to fill his library, don't ask me to explain how it all worked, but it mathematically worked out when you thought it through (which I surely did).
I was excited! Sure it took some time to put together and send out, but was so much fun for us to do it and wait as the books started coming in! Hearing my son gasp in excitement as he found out that he had received another package in the mail was priceless.  Then we would open them and rush to the couch to enjoy a good read together.Pretty soon, he's started reading the books to me! [Now, he's memorizing them of course, but I'm working on teaching him to read, little by little. ;)]
I encourage you to check out this idea of book exchange! There are many different kinds and ways to go about doing it. It's a great way to enhance community with friends, enlarge your home library, and bring fun and excitement around reading in your home!