The Admissions Process
First things first! To better assist you, we need to know a little more about you and your goals. Filling out an application will help us prepare for your first appointment, whether in person or on the phone.
After receiving your application, an admissions representative will get in touch with you. This rep will be with you every step of the way, making sure you find the program right for you and that all your questions are answered.
Your admissions rep will set up a time for you to come to campus and get a full tour of our facilities, discuss your financial aid options and cover any other questions or concerns you may have – you'll even get the chance to meet your future instructors! What to bring: Recent Taxes (for financial aid), Social Security Card, Photo ID.
Financial Aid
There are many financial aid options available for you and your family at Community Care College! Our financial aid experts are specially trained in working with Veterans benefits and will leave no stone unturned in finding you all the aid you qualify for.
Federal Financial Aid
To access or sign up for Federal Aid you can click on the link below to fill out the application. A Community Care College Financial Aid Specialist would be happy to assist you in this process, so please contact us today to allow us to answer any questions or walk you through the process.
Scholarships
We offer a variety of in-house scholarships including, but not limited to:
Yellow Ribbon Program – $6000
Military Spouse Scholarship – $1500
Veteran Scholarship – Receive up to a maximum of $5500 scholarship to be applied towards institutional charges (excluding tuition, books, and mandatory fees)
Our team will gladly assist you in verifying your qualifications and answering any questions. To view a full list of our scholarships, you can view our Financial Aid page.
Veteran's Benefits
As a Veteran, you and qualified dependents are entitled to certain benefits and are eligible to participate in certain programs. As a military-friendly institution, Community Care College accepts many forms of Veterans' assistance including, but not limited to:
Montgomery GI Bill®
Post-9/11 GI Bill®
Chapter 31 Benefits
Chapter 35 Benefits
Military Spouse Tuition Assistance
Benefit coverage varies from full to partial tuition assistance. Assistance may also be available for books, fees and housing allowances.
GI Bill® is a registered trademark of the U.S. Department of Veterans Affairs (VA). More information about education benefits offered by VA is available at the official U.S. government Web site at https://www.benefits.va.gov/gibill.
Veteran's Family Benefit's
Along with thanking you for your service, we want to thank your family, too. Community Care College offers a variety of benefits for qualified Veteran dependents, including in-house scholarships, tuition assistance and more.
How do I apply?
To apply for benefits through the VA, visit: https://www.va.gov/education/how-to-apply/
Once an approval is received, please notify your financial aid representative so that we may certify your enrollment with the Veterans Administration.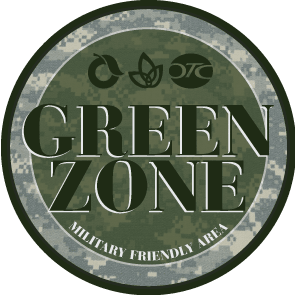 Green Zone
We are so grateful for your sacrifice and service to our country and we want to ensure the perfect fit here at our school. Our Green Zone certified staff take the extra step and undergo special Green Zone training to ensure we can accommodate Veterans making the transition back into civilian life.
Community Care College is proud to be a Military Friendly School and we're here to help you in any way we can!
Career Services
Community Care College has an extensive Career Services team dedicated to helping you gain employment during your program and after graduation. They work directly with you to help you successfully reach your goals. Together you will develop a job search strategy, practice interviewing skills, develop a professional resume and more.