Med Assistant Students Aid Senior Citizens
On April 27th, the Broken Arrow Activity Center was packed with eager senior citizens who attended the 28th Annual Senior Resource and Health Fair.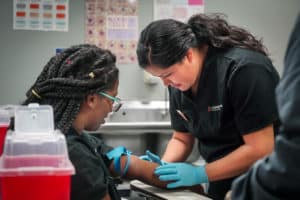 The event, which was hosted by the Broken Arrow Seniors Inc, attracted many seniors who were able to visit with more than 120 vendors in attendance. Vendors included: AARP, area churches, local senior living centers, home improvement companies, home health agencies, doctor's offices, financial management companies, and area pharmacies. In addition, the Broken Arrow Lion's Club recruited Medical Assistant students from Community Care College to perform critical health screening tests.
MA Students Shari DeCorte, Leticia Quiroz, Bree-Anna Lerch, Hope Deyoe, and Charity Deyoe performed visual acuity, glaucoma screening, blood pressure checks, bone density tests, and basic pulmonary function, among many other health screening tests. Our Medical Assistant students performed their tasks with skill and confidence while instructors from the campus looked on with pride. The exams the students administered are important because they help to identify potential life threatening diseases like atherosclerosis that could cause a heart attack or stroke.
To learn more about the Medical Assistant program, please visit our information page.
From the desk of Julie Benson
More on medical assisting: