What are Intraoral Cameras?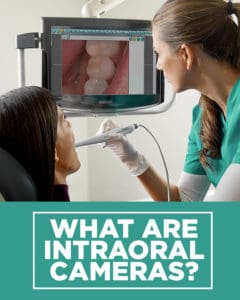 Dental offices use various dental tools. These tools are relied upon by both dentists and dental assistants.
For example, have you ever wondered what the little cameras are that your dentist uses each visit? Well, you're in the right place – they're Intraoral Cameras!
Intraoral Cameras are cameras used inside the mouth to take photos to reveal even the smallest details, such as cracks, caries, and other anomalies. Photos taken by a trained dental staff member are essential in patient education. Patients are now able to view areas as the dentist sees them for better understanding of needed treatment.
Intraoral cameras are widely used in the dental office setting, but can be used in a surgical setting for documentation of findings and procedures.
More on dental tools: